Jennifer W. Glos
Producer & Director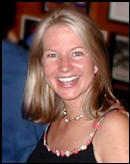 Jennifer left her hometown of Columbus, Ohio to study cognitive neuroscience at MIT for her Bachelor of Science degree. In the following years, she researched psycholinguistics in Paris, France under Jacques Mahler, developed computer interfaces for Microsoft Corporation, and created websites for children's education in Kyoto, Japan. With funding from companies such as Mattel, Lego, and Disney, she developed technological children's toys for storytelling for her Master of Science at the MIT Media Lab.
Her thesis work is published in the book Human Cognition and Social Agent Technology and she is a contributing author to the book From Barbie to Mortal Kombat: Gender and Computer Games.
After finishing her Master's degree, Jennifer worked for Third Age Media, a dot-com company based in San Francisco which provides online resources for older Internet users. Jennifer directed editorial and design for the flagship website.
At UCLA, Jennifer studied documentary filmmaking under Marina Goldovskaya, one of Russia's most acclaimed documentary filmmakers. War on their Minds: Voices of American Kids was the culmination of Jennifer's MFA studies at the UCLA School of Theater, Film, and Television, where she directed and produced multiple short films, wrote several feature length scripts, and received numerous awards.
War on their Minds: Voices of American Kids was honored as one of seven student films chosen to be aired nationally in the United States on Showtime Networks.
Alicia Dwyer
Editor
Alicia Dwyer is a filmmaker working mainly in documentary as a director, editor, producer and cinematographer. She is directing a feature documentary narrated by Martin Sheen about Israeli and Palestinian peacemakers. She was a producer on the Academy Award-winning documentary Into the Arms of Strangers: Stories of the Kindertransport, narrated by Judi Dench, about Britain's rescue of 10,000 Jewish children from the Nazis just before WWII, and an editor on the feature film and HBO series Pandemic: Facing AIDS, narrated by Elton John, music by Philip Glass, about families dealing with HIV/AIDS in India, Thailand, Brazil, Uganda and Russia. Alicia has worked as a cinematographer in the US, Mexico, Africa, and the Middle East and on an Emmy Award-winning comedy short, Sway.
Alicia was born in Santa Cruz, and then lived in Australia, New York, Germany, Los Angeles and Mexico. She studied German and Politics at Princeton University, and holds an M.F.A. from USC film school, where she made her first documentary about her family fighting over religion. She has received special recognition from the U.S. House of Representatives for work on the issue of HIV/AIDS and was recently a Distinguished Visitor in Global Studies at UC Santa Cruz where she taught documentary filmmaking.
Nicole Haeusser
Director of Photography
Nicole grew up in Germany and has lived in Switzerland, Spain, New York, London and Los Angeles. She left Germany to study economics and politics at the London School of Economics. After graduating with her Master of Science in international relations, she worked as a production manager for Reuters News and on independent features. She switched into the camera department and soon became a camera operator on a German TV series shot in Mallorca, Spain before she came to Los Angeles to study at UCLA.
She is currently pursuing a MFA in directing and cinematography from UCLA and is preparing to shoot her thesis film in Berlin, Germany and Los Angeles. She works as a DP on documentaries and independent productions. Nicole has shot and directed numerous shorts and rock documentaries which have been screened in over 20 U.S. cities. She is working towards a career in film directing and cinematography.
Kristina Malsberger
Director of Photography
An M.F.A film student at UCLA, Kristina Malsberger is drawn to the challenges of documentaries involving children. In filming a documentary on inner-city 9th graders attempting their first backpacking trip, Kristina braved river crossings, hail storms, mudslides, and teen angst, all while trying to keep her lens clean; for her documentary Kindergarten Rock, winner of a 2003 Christopher Award, Kristina had to continually keep a class of excitable five-years-old from petting the microphone.
Before coming to UCLA, Kristina earned a degree in English from U.C. Berkeley and worked as a travel writer and editor. Her job took her to the World's Fair in Germany, the breweries of British Columbia, and the jungles of Southern Thailand before she left to explore the ultimate exotic destination: Los Angeles. After receiving her M.F.A., Kristina hopes to continue her travels and travails in a career as a documentary cinematographer.
Nathan Marshall
Director of Photography
Nathan Marshall grew up in Brooklyn, New York. As a teenager, Nathan hosted the PBS television show In The Mix, but quickly shook off his acting bug and began creating his own short films.
After graduating from Cornell University, Nathan worked as an Editor and Field Cameraman for National Geographic Television, and has since worked for NATURE, Lions Gate Films, Chait/Day Advertising and PBS. In 2003, Nathan won the Kodak 35mm Project Student Filmmaker contest, and in September, 2004, his short film Still Life is premiering at the Los Angeles County Museum of Art. At present, Nathan is pursuing an MFA in Film Directing at UCLA, and is working towards a career in film writing and directing.
Miriam Cutler
Composer
Miriam Cutler, composer and producer, began her musical career as a performer in bands, including Mystic Knights of the Oingo Boingo and Swingstreet. She has scored numerous documentaries including Pandemic: Facing AIDS (Moxiefirecracker/HBO), Lost in La Mancha (IFC Films/Berlin Film Festival), Scout's Honor (POV/Sundance), Death: A Love Story (Sundance), Licensed to Kill (POV/2 Sundance/Berlin), and The Castro, (Peabody, CineEagle, 2 Emmys). She wrote the theme music for PBS affiliate daily newshow Life & Times on the air for over 10 years, and the Book Show. She has also scored numerous indie films, and provided music for studio films like Arlington Road, Bachelor Party, Grandview USA, and The Billionaire Boys Club.
Since 1988, Cutler has been resident composer for St. Louis-based Circus Flora, featured at the Kennedy Center and Charleston's Spoleto Festival. She has also co-produced live jazz albums on Polygram/Verve for Joe Williams, Anita O'day, Nina Simone, Shirley Horn, and Marlena Shaw  three of which were Grammy nominated.