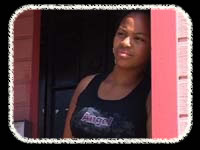 War on their Minds: Voices of American Kids is a 25 minute documentary that explores American children's impressions of war.
Ages 4 to 18, our interviewees include sons and daughters of soldiers in Iraq, a political cheerleading team that protests war, children of activist parents, and cadets at a military boarding school. They are Caucasian, African-American, Latino, East Asian, East Indian, and Native American -- painting a portrait of the diversity of America.
They speak out passionately on 9-11, the Iraq War, and their hopes and fears for their future. They ask: What justifies war? Is protest effective? What is worth dying for? They express themselves through words, drawings, and playacting.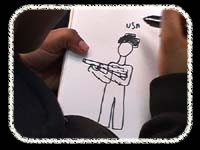 War in the 21st century will be determined by the children of today. This film encourages viewers to contemplate the moral grounding of children and the parental and socio-economic influences on their perspectives toward war.
At a time when Americans are debating the merits and justifications of war, it is a timely and important film, one that reflects on what weĦre teaching the next generation, and what they have learned.