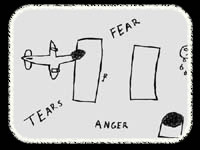 Produced & Directed by
JENNIFER W. GLOS
Edited by
ALICIA DWYER
Directors of Photography
NICOLE HAEUSSER
KRISTINA MALSBERGER
NATHAN MARSHALL
Original Music by
MIRIAM CUTLER
Additional Camera
CAMFEL PRODUCTIONS, Hollywood Rally
ELI ELLIOTT, Venice Beach Rally
JENNIFER W. GLOS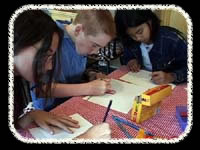 Associate Editor
JENNIFER W. GLOS
Title Design & Technology Consultant
MANISH K. TUTEJA
Sound Design & Audio Post Production
BRUCE HANIFAN PRODUCTIONS
Post Production Services
FLYING MIND
Color Correction
DAN LEVY
Legal Services
DAVID ALBERT PIERCE, ESQ.
THE LAW FIRM OF PIERCE GORMAN, LLP
UCLA Thesis Film Committee
MARINA GOLDOVSKAYA
NANCY RICHARDSON
BECKY SMITH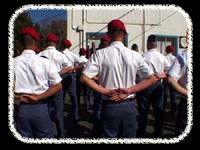 "Images of War in the 21st Century" Project
BARBARA BOYLE, UCLA
The team at SHOWTIME NETWORKS
Interview Transcribers
DANA ILENE BLOCK
EMILY TAYLOR-MORTORFF
GRACE RUTLEDGE
Generous Camera Equipment Donation
WILSON CHAN SCOTT LEHMAN
LAUREN STEFFEN
Thanks to Participating Families
JUDITH & JOHN BECKER GAIL MIDGLEY
MARK MILINICH CELIA & BOB POOL
MANEESHA PRAKASH SARAH & ROBIN RUSSIN
SHELLEY & MATTHEW SCHAFFER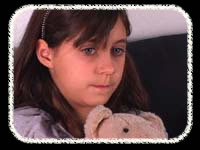 Thanks to Participating Organizations
ARMY AND NAVY ACADEMY
LARRY CHRISTENSEN
FERNALD CHILD CARE CENTER
GENIE SAFFREN & SOFIA SILVA
THE GEAR-UP PROGRAM
MINERVA AVILA, DR. OBIDAH & MIA WATSON
MT. VERNON MIDDLE SCHOOL
JORDY GREEN
RADICAL TEEN CHEERLEADERS
SUMMER BERNAL & MEREDITH RYLEY
SEEDS UNIVERSITY ELEMENTARY SCHOOL
RAUL ALARCON, SUSAN DEBLASIO, DONNA ELDER, JUDY PERLMUTTER, JENNIFER ZOLLO
HEARTFELT THANKS TO ALL THE KIDS:
Army and Navy Academy
ABE
ADAM
A.J.
ALLEN
BRAD
CHRISTIAN
CONNER
DAVID
JONATHAN
NATHAN
PETER D.
PETER Z.
RON
California Kids Filmed at Home
ADRIANNA
ALEINA
ASHTON
BENJAMIN
EDWARD
ELLEN
ERICA
JOHN
KATY
LEXI
MARCO
NICOLE
OLIVIA
SEAN
SONIA
STELLA
VEENA
Ms. DeBlasio, Mr. Alarcon, & Ms. Zollo's 2nd & 3rd Grade Classes
ADAM
ABIGAIL
AMANDA
AMBER
BARBARA
BENJAMIN
BIANCA
BRANFORD
BRYAN
CARLOS
CERI
CHARLIE
CLARALYSE
CONNER
DANIELA F.
DANIELA G.
ELI
ERIN
FRAN
GABRIELA
ISAAC
IVAN
JAKE
JOHN
JUAN
KARINA
KATI
LUIS
MACCHIATI
MARIA
MICHAEL
MONICA
NICHOLAS
OCTAVIA
PATRICIO
RAYMOND
SOFIA
SOPHIA
SUMMER
TRISTAN
YADIRA
Fernald Child Care Center
ALEXANDRA
CATHERINE
MEGAN
PRADEEP
SIMON
SYLVIA
THEODORE
The Gear-Up Program
ASIA
BRITTANIA
CRAIG
EBREON
Mt. Vernon Middle School
CHANTELLE
GABRIELA
JASMIN
KATIE
MARLON
RASHAUDAH
TREVEON
Ms. Perlmutter's 6th Grade Class
AARON
ADAM
ANGELA
ARIE
ASHLEY
AZIZA
BILLIE
BRUNO
CAMILA
CEDRIC
CHRISTOPHER
CODY
DAVID
EMILY C.
EMILY Z.
ERVIN
EVA
GRAHAM
HENRY
ITXEL
JENNIFER
KARINA
KATRINA
LAURA
NATALIA
NATE
OLIVIA
OWEN
PHILLIP
PIPER
RUTNA
SACHA
SAMUEL
SHANI
SPENCER
STEVY
TIMOTHY B.
TIMOTHY S.
Radical Teen Cheerleaders
AIRESS
ANTONETTE
BEN
DANIELA
DESIREE
GRISELDA
JASMINE
JESSICA
JOE
KATE
KRYSTLE
LARRY
LAURA
LOURDES
LIDIA
NATALIA
NICK
NIDIA
ROBYN
SOPHIA
SUMMER
TANYA
VERONICA
YESENIA
"Pachelbel's Canon"
Composed by Johann Pachelbel. Performed by JACOB.
"A Song of War"
Performed & Composed by SEAN POOL.
Additional Thanks to
ABDOSH ABDULHAFIZ JAN ALDRIN
KATE AMEND ERIK ANDERSON
DAVID ANTHEIL TIGER BELA
JAMES BLAINE CHAPMAN FAMILY
KURT DAUGHERTY DWYER FAMILY
BERNARD FRIEDMAN MEHER GOURJIAN
A.P. GONZALEZ SAMANTHA GREEN
YVONNE DELAROSA GREEN JENNIFER LYNN GREGA
PATRICK & MISTY LARKIN SANDRA LAWTON
JUSTIN LERNER LESH FAMILY
KRISTINA MALSBERGER DEANA MESA
SARAY NAVARRO VIVIAN UMINO
SCOTT VEACH BILLY WOODBERRY
This film is dedicated to my mom & my husband.
Produced at the School of Theater, Film, and Television
University of California, Los Angeles.
---
This film has been produced with the financial support of SHOWTIME NETWORKS INC. and the UCLA SCHOOL OF THEATER, FILM, and TELEVISION.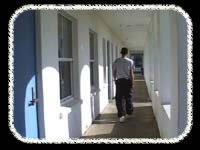 This film was made possible in part by:
MARY PICKFORD AWARD
REEL SPIRIT: DINI OSTROV AWARD IN FILMMAKING
JACK K. SAUTER AWARD
LEW & EDIE WASSERMAN FILM PRODUCTION FELLOWSHIP